Rent Control
There is a tremendous body of information on rent control including special studies and the impact of rent control. The following resources relate to mobile home park rent control as well as rent control in general.
Merriam-Webster Dictionary
Definition of Rent Control
rent control
noun
Definition: government regulation of the amount charged as rent for housing.
Additionally, recently there have been attempts to replace the name "rent control" with "rent stabilization". Rent control appears in the Merriam-Webster Dictionary. Rent Stabilization does not. The reality is that those using the term "rent stabilization" are trying to say it is not rent control because there is an almost universal negative reaction to rent control.  Rent Stabilization is Rent Control.
St. Paul's Rent Control ordinance cause way down housing construction
In first months since passage of St. Paul's rent-control ordinance, housing construction is way down
MinnPost - March 10, 2022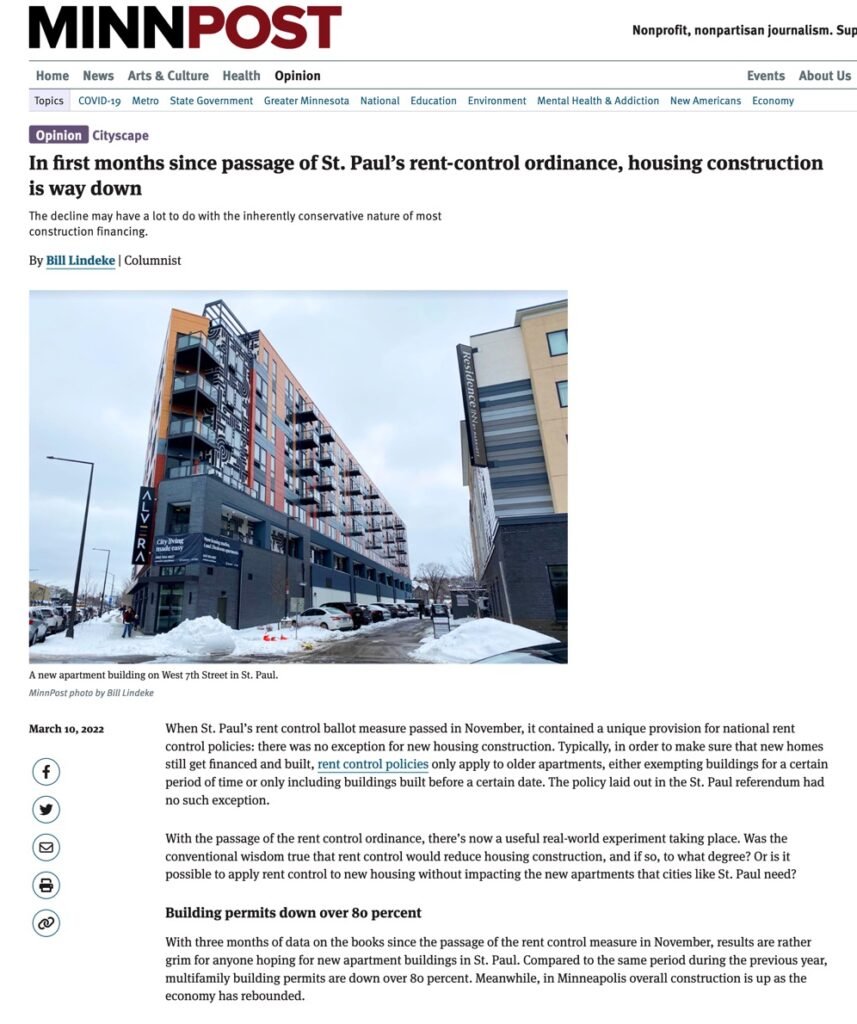 When St. Paul's rent control ballot measure passed in November, it contained a unique provision for national rent control policies: there was no exception for new housing construction. Typically, in order to make sure that new homes still get financed and built, rent control policies only apply to older apartments, either exempting buildings for a certain period of time or only including buildings built before a certain date. The policy laid out in the St. Paul referendum had no such exception.
With the passage of the rent control ordinance, there's now a useful real-world experiment taking place. Was the conventional wisdom true that rent control would reduce housing construction, and if so, to what degree? Or is it possible to apply rent control to new housing without impacting the new apartments that cities like St. Paul need?
Building permits down over 80 percent
With three months of data on the books since the passage of the rent control measure in November, results are rather grim for anyone hoping for new apartment buildings in St. Paul. Compared to the same period during the previous year, multifamily building permits are down over 80 percent. Meanwhile, in Minneapolis overall construction is up as the economy has rebounded.
Massachusetts Repeals Rent Control
A newsletter published exclusively for MHET Members, mobile home community owners that emphasizes education, legislative and important industry issues information.
City of Yucaipa Mobile Home Rent Control
MHET publishes a monthly two page newsletter targeted at educating Park residents as well as local elected officials. The newsletter is distributed to MHET Members to copy and distribute to the residents of their parks.